Types of Loans
There are different loan types available to fit your needs.
The most Popular is the USDA. This loan is 100% financing. No Money Down Home Loan. We make this happen by asking the sellers to pay your closing costs. It usually can be worked out with a good offer. The only money that comes out of pocket is the Earnest Deposit when an offer is written. We can ask the sellers to accept as little as $100.00. Your appraisal fee to the lender needs to be paid withing a couple weeks. If you want a home inspection, then that is paid to the inspector at the time of inspection. This is a good loan type for First time Buyers or those that are relocating to the area. The requirments are a credit score of 620 or better. No bankrupcies in the last 3 years and no late payments recently or charge offs. The home has to be a site built home and has to qualify for the loan by needing no major repairs.
FHA is a loan type that covers doublewides or a site built home. This loan requires 3.5% of the purchase price down.
Conventional is a type that requires 5 to 20% down depending on your score and other factors. This one can cover doublewides or site built homes. Singlewides are a possibility as well.
VA is another 100% loan that covers active military, retired military or disabled military. By receiving an eligibility form from the VA , Lenders will get this done for you. Score 620 or better.
THDA is also a TN State loan that is 100% as well. For this one your score has to be 620 or better. No bankrupcies within the last 3 years and no recent charge offs or late payments.
I work with lenders that can get you into a home. After learning what you are looking for, I would put you through to a lender that can fit your needs. Pre Qualification can be done over the phone in a matter of minutes. We have lenders that are willing to work with you if your score is not whee it should be. They will tell you how to get it up in the least amount of time.
Today is the day we should start as interest rates are rising soon. I would love to help you get into a new home. Call me today to get started. I will go through the process with you.
Rose Mary Justice 423 258 4830. Visit my website at www.homesinthesmokiesonline.com for a list of homes with your criteria in mind.
Elite Realty Group 423 307 8566. Ask for Rose Mary
Licensed in TN 322579-Equal Housing Opportunity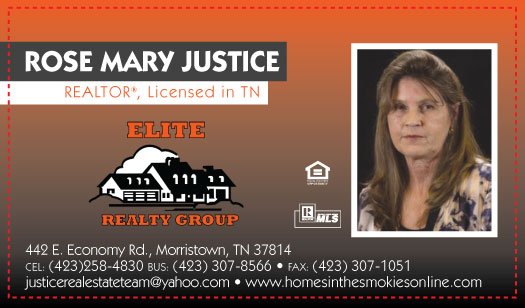 Dandridge Tn Homes for Sale and Dandridge TN Real Estate Real Estate For Sale - The Justice Team of Elite Realty Group provides services with Real Estate For Sale and Homes For Sale to home buyers and home sellers in Morristown Tennessee, Hamblen County Tennessee, Talbott, Russellville, Bean Station, Dandridge, Mooresburg and surrounding communitie