Monday Morning Real Estate News
The good news is IT IS A SELLERS MARKET. Good for Sellers.
DOM Days on the Market are an average of 120 days according to Lakeway MLS Provider but in our Office the DOM is approximately 86 Days. This lets you know that our office numbers are better than the whole area. This also let's you know that our office tries to price the homes correctly before we put them on the system. This means a faster sale. If we price them too high they will sit on the market.
FOR THE BUYER Interest rates have gone up a little since October of last year. It is still cheaper to buy than to rent.
There are many programs available to the Buyer. The most popular one is the USDA or Rd loan. Most addresses qualify for this loan. It is a no money down loan. 100% of the loan is financed.
VA is an option for Military or Veterans. It also is a no money down loan.
FHA requires 3.5 down.
Conventional Requires 5 to 20% down.
Real Estate is still a great investment. The market is predicted to rise, so Now is the time to buy. Get in a home now and as the market rises you will be building equity in your investment.
I am your real estate agent by choice. My goal is to inform you along the way and build a relationship of Trust. I am only a phone call away and ready to work for you.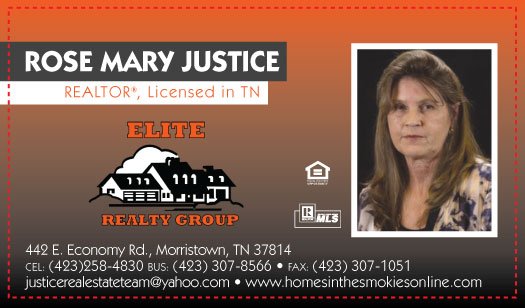 Dandridge Tn Homes for Sale and Dandridge TN Real Estate Real Estate For Sale - The Justice Team of Elite Realty Group provides services with Real Estate For Sale and Homes For Sale to home buyers and home sellers in Morristown Tennessee, Hamblen County Tennessee, Talbott, Russellville, Bean Station, Dandridge, Mooresburg and surrounding communities.